SUPER THURSDAY FEBRUARY 3RDGAME VS GAME
FANTASY MEETS REALITY
HOSTED BY HOSEA CHANCHEZ "40 MIL MALIK" OF THE TOP RATED SHOW THE GAME CO-HOSTED BY MEAGAN GOOD OF THE GAME VS. NFL ALUMNI FROM THE "U" UNIVERSITY OF MIAMI & OTHER TOP NFL STARS
TIME: 8:00PM-4:30AM
LOCATION: Mr. Big's
10333 Technology Blvd.
Dallas, TX 75220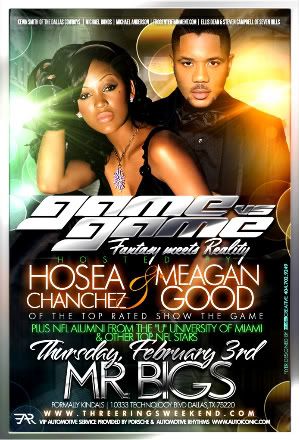 SUPER "EXCLUSIVE" SATURDAY- Hosted By NFL SUPERSTAR MICHAEL VICK !!!!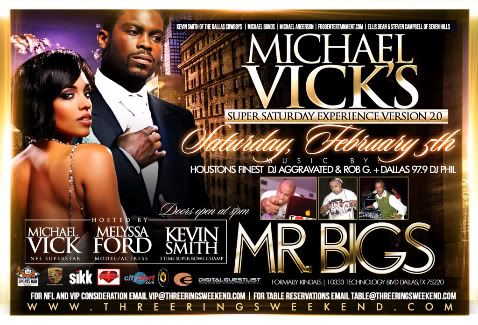 MICHAEL VICK'S SUPER SATURDAY EXPERIENCE VERSION 2.0
HOST BY NFL SUPER STAR MICHAEL VICK
Co-Hosted By Model & Actress Melyssa Ford & 3 time Super Bowl Champion Kevin Smith of the Dallas Cowboys
THIS THE OFFICIAL MICHAEL VICK EVENT!!!
Time: 8:00pm-4:30am
MR. BIG'S formally Kendal's
10333 TECHNOLOGY BLVD
DALLAS,TX 75220 (972) 352 – SOUL
VIP TRANSPORTATION by Automotive Rhythms at www.AutoIconic.com & Porsche Motor Cars